Office of the Herald of the Shire of Amlethsmor
Lady Jade of Winterhold
The Amlethsmor Herald also called the Amlethsmor Pursuivant takes care of the registration of names and devices. It is desirable that each SCA member have a unique name so that they are not confused with someone else. In addition, to be registered a name must be one that someone could have had during the Middle Ages, and is unique to that person's persona's time and place. A device is what is commonly known as a "coat of arms." Every member of the SCA can register a device, but as with names, a device must be unique, and be of the sort a person in the Middle Ages might have used. As such the Pursivant aids in reasearching names and designing devices. The Herald also serves as the voice of the Shire making formal announcements at meetings, serving as a camp crier at events, and making announcements during tournaments. In addition, the Pursuivant keeps track of what awards Shire members have won and arranges Shire members in order of rank in the Order of Precedence. Finally, the Herald teaches others about heraldry, and encourages others to take part in heraldric display such as on shields and banners. The current Herald of Amlethsmor is Jade of Winterhold and she can be reached at Pursuivant at amlesmore.org.
The Arms of the Shire of Amlethsmor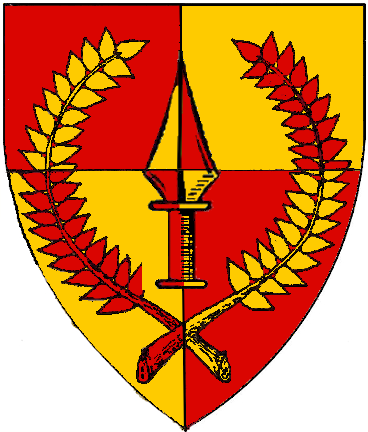 Quarterly gules and Or, a spear-head within a laurel wreath counterchanged

The Populace Badge of the Shire of Amlethsmor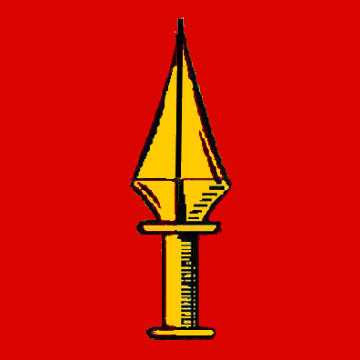 Gules, a spearhead Or

The Unofficial Populace Badge of the Shire of Amlethsmor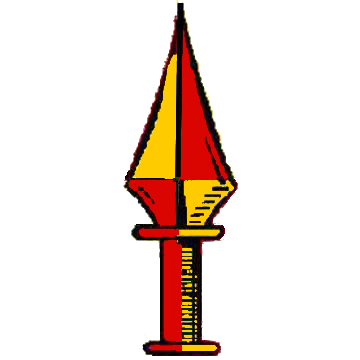 Fieldless, a spearhead quarterly Or and gules.

Links on Heraldry

SCA Heraldry Page

Calontir Heraldry Page

Roll of Heralds of Amlethsmor
Lady Jade of Winter's Keep - September 2016 - present
Hugo Smith - June 2016 - Septemner 2016
Lord Wulfhere of Eofeshamme - April 2014 - March 2016
Lady Elena Skynith- November 2012 - April 2014
Lord Vincenzo DiMalaterra - September 2009 - November 2012
Lord Michael St. Leger - October 2008 - September 2009
Lady Elena Skynith - May 2006 to October 2008
Lord Roibeard mac Auleth - November 2004 to May 2006
Lord Hendrick von Sievershausen - July 2002 to November 2004